WELCOME TO SEQUINS AND SWORDS
Our collection features a wide range of dress up treasures that kids will love and enjoy wearing time and time again. Carefully selected for their charming designs, our high-quality costumes and accessories are perfect for a variety of occasions, including birthday parties, school plays, charity and sporting events, Halloween and World Book Day. From babies to boys and girls up to 10 years old, our range offers something for everyone and is designed to inspire imaginative play. So whether you're looking for a new addition to your dressing up box or the perfect outfit for a special occasion, you're sure to find something unique in our collection.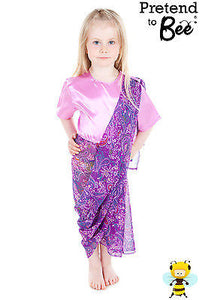 Featured Product
A traditional girls Indian Lady or girl costume, perfect for learning about life in India:
A pretty round necked top with short sleeves in satin finish fabric
Soft fabric girls Indian Costume Sari in traditional indian paisley print  
Sari has an adjustable waist with a long scarf over the shoulder
Satin top has a back opening with velcro fastening
Comes in sizes to fit age 3-5 and 5-7 years
A quality, washable childrens costume by Pretend to Bee
GOOD FOR:  Multicultural learning and dressing up for Book Days.
Buy Now
Fast Shipping
100% Customer Satisfaction
Hassle-Free Returns